On 28 August, during his visit to Denmark, Audronius Ažubalis, Minister of Foreign Affairs of Lithuania, presented the "Star of Lithuanian Diplomacy" to Hans Skov Christensen, former CEO of Confederation of Danish Industry and now Deputy Chairman of the Board of Baltic Development Forum. The ceremony took place at the Lithuanian Embassy in Copenhagen.
In his address Foreign Minister Ažubalis underlined the important role that the Danish Confederation of Industry (DI) and in particular Hans Skov Christensen has played over the past 20 years in creating strong links between Lithuania and Denmark and in particular between the business communities of the two countries. He said that business is important for development of a democratic state in accordance with democratic values, and in particular pointed out that Hans Skov Christensen and DI helped Lithuanian business to establish its own national umbrella organisation.
Under the leadership of Hans Skov Christensen, DI has actively supported the EU membership of the Baltic States, promoted the economic integration of the Baltic and Nordic countries, and supported the establishment and development of business organisations in the Baltic States. Over the years, DI has worked closely together with the Lithuanian Confederation of Industrialists (LPK), facilitating LPK's presence in Brussels as a member of the business organisation Business Europe. Hans Skov Christensen has also worked hard to encourage Danish companies to invest in Lithuania, thereby supporting the difficult transition from a control economy to a free market economy in the 1990s.
In his speech of thanks Hans Skov Christensen remembered the many meetings and ties of DI and LKP and said that it was a special honour for DI to host a representative from Lithuania in the DI´s office in Bruxelles thereby giving LKP an opportunity to learn about European Affairs before entering into the EU. He concluded that he was happy that he could continue working with Baltic Sea Region affairs via Baltic Development Forum.
Hans Skov Christensen also played an important role in organising a regional business summit in connection with the 12th Baltic Development Forum Summit, which took place in Vilnius, Lithuania, in June 2010. The meeting was co-organised with the Lithuanian Government that at the time had the Presidency of the Council of the Baltic Sea States. One of the main issues that were addressed at the Summit was how deeper regional cooperation could help the Baltic Sea Region countries – and not least the Baltic States – to overcome the economic crisis in 2009-2010.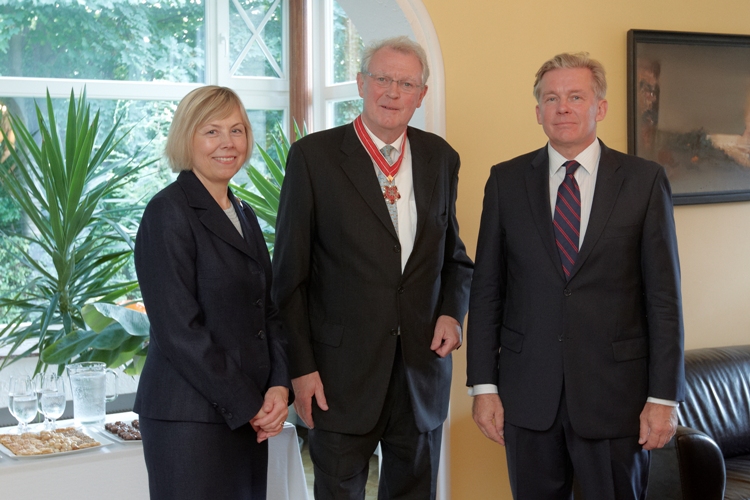 Hans Skov Christensen is honoured as the Baltic and Nordic countries are celebrating the 20th anniversary of the Baltic States re-establishment of statehood, which took place in August 1991 when the Nordic countries were among the first to re-establish diplomatic ties.
For further information, please contact Baltic Development Forum, Director Hans Brask, email hb@bdforum.org, phone: +45 60 21 85 81.