Baltic Development Forum took part in the XVI All-Russia Forum "Strategic Planning in the Regions and Cities of Russia" in St. Petersburg 23-24 October. This annual event gathered more than one thousand stakeholders from federal, ministerial, regional and local authorities, municipal organisations, international institutions, academia and business. The main objective was to discuss and raise awareness on the ongoing strategic plans in urban development of Russia. The governmental structures and federal bodies are updating their strategic roadmaps to accelerate economic growth based on upgraded innovation, up scaled inclusion of business into political planning, new investment priorities, support programmes and new financial tools.
The event took stock on the alliance of regional, sub-regional, federal strategic plans, their progress and relevance to the global goals, specifically the UN Sustainable Development Goals, where Russian Federation committed to deliver concrete results. This year is an anniversary year as 20 years ago there was the adoption of the Russia's first strategic document – the Strategic plan of St. Petersburg. The participants shared their lessons learnt, best practices, recommendations and visions for future years. As Year 2017 is announced Ecology Year of Russia, significant focus was put on discussing sustainable development, the green agenda, and climate change impact.
The conference had particular focus on the UN Sustainable Development Goals and contribution of the Russian Federation to their implementation. BDF participated in the roundtable "Implementing Sustainable Development Strategies of Cities and Regions: From Talk to Work", organized by the Ministry of Natural Resources and Environment of the Russian Federation, Government of St. Petersburg (Committee for Nature Use, Environmental Protection and Ecological Safety), Council of the Baltic Sea States, State Geological Unitary Enterprise "Specialized Company "Mineral", Association for Interregional Socio-Economic Cooperation "Central Federal District", ICSER Leontief Centre. BDF added the Baltic Sea Region perspective into the discussions by sharing our ongoing cross-border initiatives under the energy and climate change framework.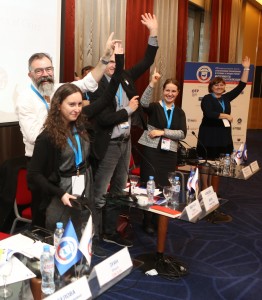 BDF Head of Business Development Viktoria Nilsson voting for more sustainable development!
For more information, contact Viktoria Nilsson, Head of Business Development vn@bdforum.org
Visit the All Russia Forum website