BDF and "Top of Digital Europe" was the co-organiser of an ICT Business Round Table in Helsinki on 12 Jan 2016, organized and hosted by Microsoft Finland. Participants were specially invited Finnish parliamentarians, policy makers and ICT industry.
The topic for discussion was the potential for a digital single market of the Baltic Sea region: Could this region develop a single digital market faster, what would the economic benefits be, and what would it take to drive such a development? The latest reports from Top of Digital Europe, presented by authors Joakim Lundblad and Martin Andersson, set the scene for the round table. The discussion provided useful inputs and ideas as to how Finland as one of the most advanced countries in digitization and innovation can contribute to and benefit from a digital single market in the Baltic Sea Region.
In the following week, a round table titled "Transnational digital collaboration in the Baltic Sea Region", was organized in Tallinn, Estonia, by BDF and Estonia's Ministry of Economy and Communications, together with Policy Area Innovation under the EU Strategy for the Baltic Sea Region.
Specially invited digital policy makers and business representatives from eight countries in the Baltic Sea region took part. The event explored topics such as: What are the national digital policy priorities and challenges in the region? How can transnational collaboration support and complement initiatives at EU and national levels? What are obvious topics for collaboration?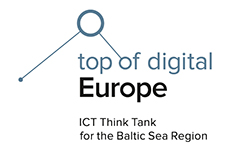 The event was part of the preparation of a strategic action plan for how the EU Strategy for the Baltic Sea Region can strengthen innovation capacities and support the implementation of the EU digital and innovation policies. BDF works together with ministries in Sweden, Poland, Denmark and Estonia to develop the action plan.

Reports from Top of Digital Europe:
State of the Digital Region Report2015: Leveraging the Baltic Sea Region
A Digital Single Market – Growing the Baltic Sea Region
For further information, contact Torben Aaberg, ta@bdforum.org