The 2010 State of the Region Report released by Baltic Development Forum today ahead of its Annual Meeting in Vilnius, Lithuania, is titled Top of Europe Recovering: Regional Lessons from a Global Crisis.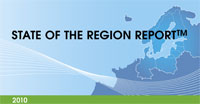 The report, the seventh in this series of annual evaluations of competitiveness and cooperation across the Baltic Sea Region, takes the Region's economic temperature in the first year after the onslaught of the global crisis.
The report tracks different indicators of competitiveness and cooperation in the Baltic Sea Region, following the framework introduced in previous years. A special focus of this year's report is an analysis of the longer-term economic trends in the Baltic countries and Poland.
"While there is no reason for pessimism about the fundamental competitiveness of the Region, it is too early to call the crisis over", says the author of the report Dr. Christian Ketels.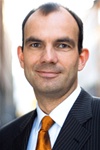 Christian Ketels adds, that "The drastic slowdown of the Baltic Sea Region economy is to a large degree the natural result of a global crisis hitting a group of small open economies. But the quick return of business sentiments to pre-crisis levels is not supported by economic fundamentals. Regional cooperation across the Region remains strong, but the general context is less supportive for joint action than in previous years."
Authors from the three Baltic countries and Poland contributed to this year's report. "The experience of these countries is a lesson of the profound positive contribution EU membership has made over the last decade, despite the painful recent crisis in the Baltic countries", comments Dr. Ketels. "But it also reveals that following EU guidelines is not sufficient to achieve sustained gains in competitive-ness. What these countries now need is a new growth strategy, taking into account their respective national opportunities and capabilities."
To find a Press release, click here. 
About the Report
The State of the Region Report, drawing on the World Economic Forum's Global Competitiveness Report, is authored by Dr. Christian Ketels, Principal Associate at Harvard Business School.
Over the years it has become a respected benchmarking tool regarding competitiveness, economic performance and prosperity in Northern Europe. It is used by governments, organizations, financial institutions and business. The 2010 report will also be submitted to the Heads of Governments of the Baltic Sea States Summit, also held in Vilnius 1-2 June.
The 2010 report was developed with support of the Nordic Council of Ministers and the European Investment Bank.
Contacts
Dr. Christian Ketels, Principal Associate, Harvard Business School
Phone +46-70-491 46 26, email: cketels@hbs.edu
Hans Brask, Director, Baltic Development Forum
Phone +45-60 21 85 81, email: hb@bdforum.org