Expanding cooperation on all levels, emphasizing the common values and history and paving the way for development and business are the main priorities when the German Presidency of the Council of the Baltic Sea States (CBSS) brings together all Baltic Sea cooperation stakeholders to attend the Baltic Sea  Days in Berlin 23 – 25 April.
On the planning schedule are a series of interconnected events taking place at different venues covering topics like a NGO Forum, a Youth Session, a Climate Forum, a Business Forum and several events organised by the North German Laender.
Furthermore there will be public events during the Baltic Sea Days: a Crime Festival with readings by bestselling crime writers (Jussi Adler-Olsen, Denmark, Leena Letholainen, Finland and the Swedish duo Michael Hjorth and Hans Rosenfeldt).
A historic exhibition "20 Years of the CBSS: Cooperation Pioneer and Symbol of Baltic Sea Region Identity" will be open all week from 23 April – 8.00 – 20.00.
Baltic Development Forum will actively take part in the Baltic Sea Days events and BDF Chairman Hans Skov Christensen will participate.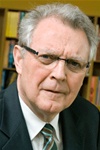 "It is an impressive list of activities and it is reassuring that the Germany is giving high priority to regional cooperation  at a moment when Germany has many other challenges in Europe to address at the moment", states Hans Skov Christensen who is especially looking forward to hearing the address of Germany's new Federal president Joachim Gauckwill. "I have also noted the Business Forum on the Baltic Sea Region, which I support at lot".