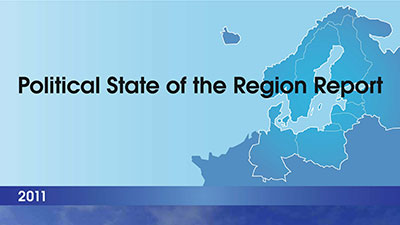 For some time, recognized experts have been dealing with questions concerning the Baltic Sea Region (BSR) within a newly established think tank, prepared to give advice, and to initiate, develop and follow up political processes.
The Political State of the Region Report 2011, to which 23 authors from the entire BSR have contributed, provides an overview of political and economic developments in the region and its countries over the period from January 2010 until July 2011. Its country chapters focus on the respective policies towards the BSR and stance on the newly established EU Strategy for the Baltic Sea Region (EUSBSR). The report further analyzes concrete issues which are of relevance for the BSR and regional co-operation, in particular within the framework of the EUSBSR: security, energy, environment, migration/demography, labour mobility, transport and communication as well as region branding.
The Political State of the Region Report 2011 has been sponsored by Konrad Adenauer Stiftung and Baltic Development Forum.
Programme
The report will be presented by:
Professor Bernd Henningsen, Nordeuropa-Institut at Humboldt University Berlin
Dr Tobias Etzold, German Institute for International and Security Affairs Berlin
Dr Kimmo Elo, University of Turku
Comments on behalf of the European Commission:
Colin Wolfe, Head of Unit REGIO E1, European Transnational and Interregional Co-operation
Practical Details
25 January 2012 – 12 am to 2 pm at Hanse-Office, Brussels. The event will be held in English, a light lunch will be provided.
RSVP until 20 January 2012. Venue: Joint Representation of the Free and Hanseatic City of Hamburg and the State of Schleswig-Holstein to the EU, Avenue Palmerston 20, B – 1000 Brussels
Download Invitation to Event 25 January 2012
Download the Political State of the Region Report