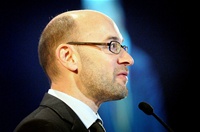 BDF welcomes the formal agreement between the Danish Minister of Infrastructure Carina Christensen and her German counterpart Wolfgang Tiefensee on building the Fehmarn Belt bridge by 2018.
– Undoubtedly, large scaled infrastructural investments like the Fehmarn Belt bridge helps the smaller economies of the Nordic Countries gaining better access to the larger European markets, thereby overcoming some of the impediments of economic size, says Baltic Development Director Hans Brask, commenting the formal decision by Denmark and Germany to build the Fehmarn Belt bridge.
Hans Brask also believes that the Fehmarn Belt Bridge significantly will contribute to a more integrated Baltic Sea Region by improving the transport corridors:
– The Fehmarn Belt bridge is an important investment in terms of future economic growth, says Hans Brask.
Also the CEO of the Chamber of Commerce and Industry of Southern Sweden Stephan Müchler – a close partner in the BDF network – welcomes the agreement and believes that the political pressure will increase to complement the Fehmarn Belt bridge with a land connection between the cities of Helsingborg and Helsingör.
– The Fehmarn Belt bridge will bring us closer to the European continent. But the capacity with regard to rail ways on the current Oresund Bridge will have to increase in the future.