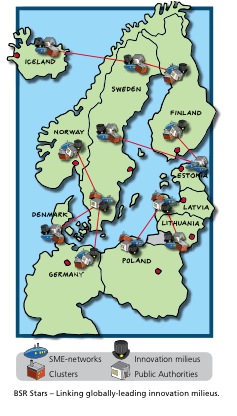 The BSR Innovation award is the most distinguished award in the Baltic Sea region for cross border innovation within sustainable growth and global development. The award goes to a project that has proved itself to be innovative and reached across not only national borders but also crossing different fields of science and industry sectors.
The aim of the award is to highlight the importance of innovation in a Baltic Sea Region context. It is an appreciation of dedicated work done by organisations, networks, projects or public bodies that have contributed to the innovative development of the region.
The BSR Innovation award is presented by BDF and BSR Stars.
Award ceremony
The winner will be announced at a ceremony in Copenhagen on June 18th with the presence of the EU Commissioner for Regional Policy Johannes Hahn.
Selection criteria
The following criteria have been laid down for the Baltic Sea Region Innovation Award.
Preferably, the award winner should:
have made an outstanding contribution to an innovative development of the Baltic Sea Region and its countries,
draw on macro-regional cooperation in between business, research and policy-makers in the Baltic Sea Region, and/or
support the objectives to promote green, smart and/or inclusive growth, set out in the Europe 2020 growth strategy.
Organisations, networks, projects or public bodies are eligible for nomination.
Jury
The selection committee to distribute the Baltic Sea Region Innovation Reward consists of the Danish EU Presidency represented by the Danish Business Authority, the European Commission's Directorate General for Regional Policy, the chairman of Baltic Development Forum, CEO of BSR Stars high level group and one coordinator for the research and innovation priority area in the EUSBSR.
Prize
The winner will receive an award diploma signed by the jury members and 5,000 €.
Nomination Procedure and Deadline
Please send your nomination to the Baltic Development Forum Secretariat, by email to bdf[at]bdforum.org or by post to Nytorv 3, 1048 Copenhagen K, Denmark.
Deadline for nominations is 8. June
[hr]
2011 Award to German BioCon Valley
German BioCon Valley was the winner when the best innovation improver in the Baltic Sea Region was awarded for the first time 2011. BioCon Valley was awarded for its outstanding work with linking the strongest innovation milieus in the Baltic Sea Region within the field of life science and health.
BioCon Valley has among other things developed the protein rich blue sweet lupine into a "soybean of the north". The network has also mapped competences within the field of life sciences and health in the Baltic Sea Region. The outcome is a strategically important database of actors in economy and industry (yellow pages in life sciences and health).