The BDF Summit 2010 in Vilnius was opened this morning by the President of Lithuania

Dalia Grybauskaite. Read her full speech.
After welcoming all the participants to Lithuania President Grybauskaite talked about energy, the Baltic Sea, innovation, and competitiveness – three key words defining the region's diversity according to her. Ms Grybauskaite pointed at the isolation of the three Baltic countries in the energy field, and talked about the way to solve this situation in future.
The creation of a Baltic Energy market starts with reaching the whole Baltic region, as well as building electricity bridges to Poland and Sweden, the President said. Furthermore she said that the vulnerability of the Baltic Sea and its fragile ecosystem is one of the main issues that have to be solved together through joint regional cooperation as the Baltic Sea is part of all the countries' identity.
"When I say "cooperation", I mean joint work by the governments, business companies, public and private sectors in the region", the President said.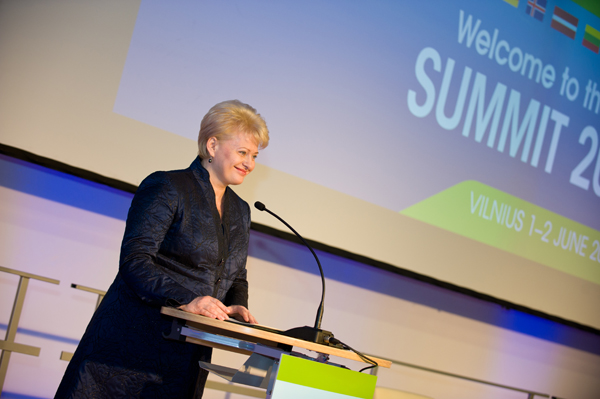 With the approval of the EU Strategy and its commitment to embark on a modern path of development, based on the newest technologies and innovations, the Baltic Sea Region will grow stronger as it emerges as the most prosperous, closely coordinated and competitive region in the European Union.
"I wish you fruitful discussions and the best of success in your work", the President ended.
The speech of President Grybauskaite was followed by a welcoming speech by the Mayor of Vilnius Vilius Navickas and a much appreciated performance by the Vilnius City Municipal choir "Jauna muzika".