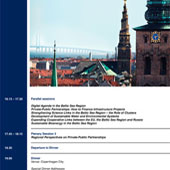 With more than one month left before the 14th Baltic Development Forum Summit and the European Commission's 3rd Annual Forum on the EU Strategy for the Baltic Sea Region, we have put together 7 plenary sessions, 12 parallel thematic sessions, and last but not least Networking and Project Village activities embracing a lot of presentations of both flagship projects and business cases.
With major focus on infrastructure development as a precondition for enhanced competitiveness and growth in the Region, we are setting up discussions that will allow the audience to follow-up the topic through different sectors – transport and logistics, energy, science, water, financing.
In the anticipation of today's inauguration of Putin as President of Russia, two thematic sessions on Russia were launched aimed at providing a general outlook and analysis of the situation in Russia as well as demonstrating successful stories of regional cooperation with Russia.
Please note that early arrival programme 17 June will take place in Sweden where you will get opportunity to learn more about the major regional facilities in science connecting Scandinavia with the rest of Europe.
Please consult the programme outline on the conference website for the most recent updates of the programme.
A printer-friendly .pdf version of the programme is available for download here.
Below are photos of some speakers that were added to the programme recently. Find the full speakers photo gallery here.
BDF Contact Person: Viktoria Nilsson, vn[at]bdforum.org