On March 3rd Chairman Uffe Ellemann-Jensen met Polish Ambassadors and High Officials to discuss regional and European affairs.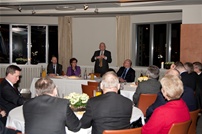 Chairman of Baltic Development Forum, Uffe Ellemann-Jensen, was specially invited by Poland's ambassador to Denmark, Rafal Wisniewski, on March 3rd to speak with 15 Polish ambassadors accredited to the Nordic, Baltic and Visegrad countries as well as Germany and Russia. High Officials from the Polish Foreign Ministry, including Grazyna Bernatowicz, also participated in meeting. This year, the ambassadors' regular regional meetings took place in Copenhagen, which provided the occasion to discuss and analyze regional and European affairs. Poland, which will take over the Presidency of the EU on 1 July 2011, is in the same Presidency formation as Denmark who will take over from Poland 1 January 2012.
From the Polish side there was a special interest in the Nordic and the Baltic Sea Region Cooperation. The review of the EU strategy for the Baltic Sea Region will be an important issue during the Polish EU Presidency. Another major issue for the Polish Presidency will be the negotiations on the so-called financial perspectives, which will determine the EU's budget for 2013-2020.
Uffe Ellemann-Jensen presented his views on Baltic Sea Region cooperation, Nordic cooperation and European integration, including relations with Russia and Europe's energy policy. Uffe Ellemann-Jensen underlined that Baltic Development Forum was very pleased to be working closely together with the Polish EU Presidency on the review of the EU strategy and in organizing the 13th Baltic Development Forum Summit and the 2nd Annual Forum of the EU strategy in Gdansk 24-26 October 2011.