The Baltic Development Forum Summit is very pleased to return to Riga, 10 years after the first BDF Summit in the Latvian capital. With the return to Riga, BDF embarks on a new tour de metropolis around the Baltic Sea – a tour which has been completed over the past 15 years. We begin this new journey optimistically as the Baltic Sea Region is again the Top of Europe after having come through the economic and financial crisis.
Latvia is the country in Europe with the highest growth rates in Europe and all the Baltic countries are doing well and on a more economic sound basis. Latvia and the Baltic States in general are attractive markets to invest in and to outsource services and production to. European economic role model is a term that is often used about the Baltic States in debates on the best way out of the economic crisis.
It is therefore natural to begin our 2nd tour in the beautiful Latvian capital as the Latvian Government is chairing the Presidency of the Baltic Council of Ministers. BDF is very proud to be working closely together with the Latvian Government on the 15th BDF Summit.
"New Europe meets old Europe" was part of the title of the 2003 Summit in Riga. It was inspired by the American Defence Minister Donald Rumsfeld who in 2003 introduced a new understanding of Europe. He was referring to the coalition of the willing who took part in the invasion ofIraqand regarded France and Germany, notably, to be part of old Europe. It was a refreshing new perspective on European politics, regardless of the views on the Iraq war, because the dominating understanding just before the EU enlargement was East meets West, where the EU countries in the West had to help the poorer East. This was perhaps too simplistic a way of looking at political developments and dynamics in Europe.
Ten years later it seems even truer. Today, Europe is divided more between North and South Europe. The Baltic Sea Region, and not least Poland and the Baltic States, is one of the most dynamic and economically vibrant parts of Europe and the world. The public spending and debt are under control and the new impulses to the Eurozone come from this part of Europe. The EU Strategy for the Baltic Sea Region is a European novelty that can support regional solutions.
We welcome everyone to come to Riga and explore the new realities and the new opportunities. We are partnering with all the important public and private partners in the country and you will meet relevant regional and European stakeholders. We look forward to seeing you in Riga.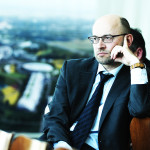 Hans Brask, Director of Baltic Development Forum