The President of Finland, Tarja Halonen, has been honored with the Swedbank Baltic Sea Award 2008. The award was handed over by the CEO of Swedbank Jan Lidén at a gala dinner at the Baltic Development Forum Summit in Malmö 1 December.
It is the second year the Swedbank Baltic Sea Award is handed out. The award is assigned to an individual or organization that has made an extraordinary contribution to the development of the Baltic Sea Region.
– The Baltic Sea Region needs fiery spirits, individuals who believe that they through a personal and lifelong commitment can make the region stronger, better and sustainable. President Halonen has a longstanding record of focusing on the common good for the Baltic Sea Region, often stressing the fact that we all live in a common region, with common assets, common problems, and common solutions, said the CEO of Swedbank Jan Lidén upon handing over the award.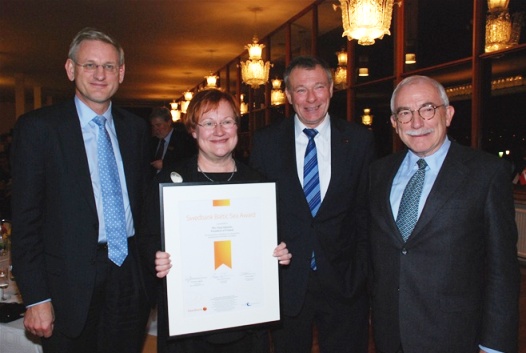 President Halonen has with her strong commitment for the Baltic Sea region inspired both political leaders and fellow citizens to take a common responsibility for the Region.
President Halonen was appointed among several strong candidates by a jury consisting of the Prime Minister of Denmark Anders Fogh Rasmussen, Swedbank's Executive Chairman Carl Eric Stålberg, and the Baltic Development Forum Chairman Uffe Ellemann-Jensen. The prize sum is €5,000.
The Baltic Sea Award 2007 was dedicated to Mr Björn Carlson, a financier with a great personal involvement in the Baltic Sea Region and also the funder of Baltic Sea 2020.