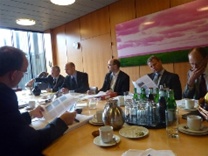 Today Baltic Development Forum organized the first roundtable discussion on economic growth and recovery in the Baltic Sea Region, in order to elaborate a policy document to be presented at the BDF Summit.
The meeting was hosted Jakob Ekholdt Christensen, Special Consultant, National Bank of Denmark.
Together with the Industry Foundation of Denmark, Baltic Development Forum is elaborating a policy document on economic growth in the Baltic Sea Region. The document and its recommendation will be presented by Hans Skov Christensen, CEO of the Confederation of Danish Industry, at the Baltic Development Forum Summit, 1-2 June in Vilnius. In particular it will be presented to the Prime Ministers of the Region that are taking part in the Baltic Sea States Summit which runs in parallel to the BDF Summit.
The consultancy company Copenhagen Economics will elaborate the document which will also provide an input to the EU strategy for the Baltic Sea Region and the EU2020 plan which is replacing the Lisbon Strategy on Jobs and Growth in the EU. The annual BDF publication State of the Region Report have for many years provided the data and analysis necessary for developing strong policy recommendations for regional growth strategies.
At the first roundtable meeting many competent economists and analysts took part beside Jakob Ekholdt Christensen:  Dr. Christian Ketels, Harvard Business School/Stockholm Business School, author of the State of the Region Report,  Guy Clausse, Director, European Investment Bank, Ola Yndeheim, Senior Adviser, Nordic Council of Ministers, Martin Thelle, Partner, Copenhagen Economics (moderator), Thomas Wohlert, the Danish Industry Foundation, Head of Project Development, Per Tryding, Secretary General, Baltic Chamber of Commerce Association, Henrik Schramm Rasmussen, Senior Consultant, Confederation of Danish Industry. From Baltic Development Forum participated Hans Brask, Director and Karin Kalda, Project Manager.
During the discussion many ideas and recommendation were presented on how to develop a new growth model in the wake of the recent economic and financial crisis. They will be included in the upcoming strategy document.