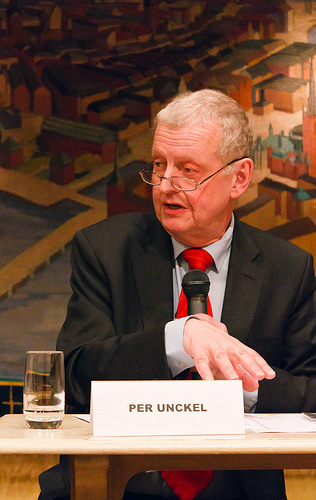 Per Unckel, County Governor of Stockholm County and member of Baltic Development Forum's Advisory board, died yesterday at the age of 63. We express our sympathy and condolences with his wife and children and regret the loss of a true and long-time advocate for Baltic Sea Region collaboration.
Per Unckel's background was in politics. In 1976 he was elected to the Swedish Riksdag. Between 1991 and 1994 he was Minister for Education and Research. Between 2003 and 2006 he was the Secretary General of the Nordic Council of Ministers. In 2011 Per Unckel was responsible for leading and coordinating the Swedish celebrations of the Baltic countries' independence.
"Per was a true friend of the Baltic Sea Region and BDF" says BDF Chairman Uffe Ellemann-Jensen. "We really appreciated his long and strong engagement in the Baltic Sea cooperation. Per gave us valuable support, experienced advice and helped us with his strong contacts in Swedish politics and administration".
In March BDF had the pleasure to arrange a conference in Stockholm together with Per Unckel and we had hoped to see him at the Gdansk Summit next month. Per's interest in the Baltic Sea Region was genuine and constant. We will miss him and his engagement in BDF.
Text: Torben Aaberg, BDF
Photo: Katarina Tafvelin, BDF