Hans Skov Christensen, former CEO of the Confederation of Danish Industry, has joined the Board of Baltic Development Forum as Vice-Chairman.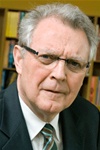 Chairman of BDF and former Minister of Foreign Affairs of Denmark, Uffe Ellemann-Jensen, is greatly pleased that the foundation is thereby strengthened. "Undoubtedly, Baltic Development Forum will profit from Hans Skov Christensen's extraordinary international network and his many competences. BDF has evolved to become the strongest regional networking organisation and together with Hans Skov Christensen, I am confident that we can maintain this position in the coming years".
During the 13th Summit in Gdansk, Poland, BDF will make sure that the private sector will be involved in debates about the future priorities for regional cooperation. The Summit will be organised together with the 2nd Annual Forum of the EU Strategy for the Baltic Sea Region. It will take place on 24-26 October 2011. BDF is working closely together with the European Commission and the upcoming Polish EU presidency, which will carry out a review of the Strategy. The title of the event is New Ambitions for the Baltic Sea Region. "With Hans Skov as vice-chairman, BDF's Board could not have a stronger profile for taking part in this work", underlines Uffe Ellemann-Jensen.
For more information please contact BDF Director, Hans Brask, telephone: +45 60 21 85 81