More than 700 stakeholders from decision making, business and academia registered for the Fehmarnbelt Days 2014 and came together in Copenhagen 30 September – 2 October to discuss the potential for increased cross-border collaboration between Germany, Denmark and Sweden, and what benefits an integrated Fehmarnbelt Region could bring.
Baltic Development Forum was one of the six organisers of the conference, and served as the secretariat for the Fehmarnbelt Days 2014, responsible for overall programme coordination and logistics. Of particular interest to BDF was to discuss how a fixed link between Germany and Denmark could serve as a gateway to the Baltic Sea Region. In her speech at the STRING Political Conference "Green Growth-Region in Motion", BDF Chairman Lene Espersen stated that the Fehmarnbelt Tunnel will have an impact on the entire Baltic Sea Region, and that investments in infrastructure is an important growth factor that will bring new opportunities in sectors such as tourism, transport, and education. This was further outlined in an article in Jyllands-Posten, which Lene Espersen co-authored with Anke Spoorendonk, Minister of Justice, Culture and European Affaris of Schleswig-Holstein.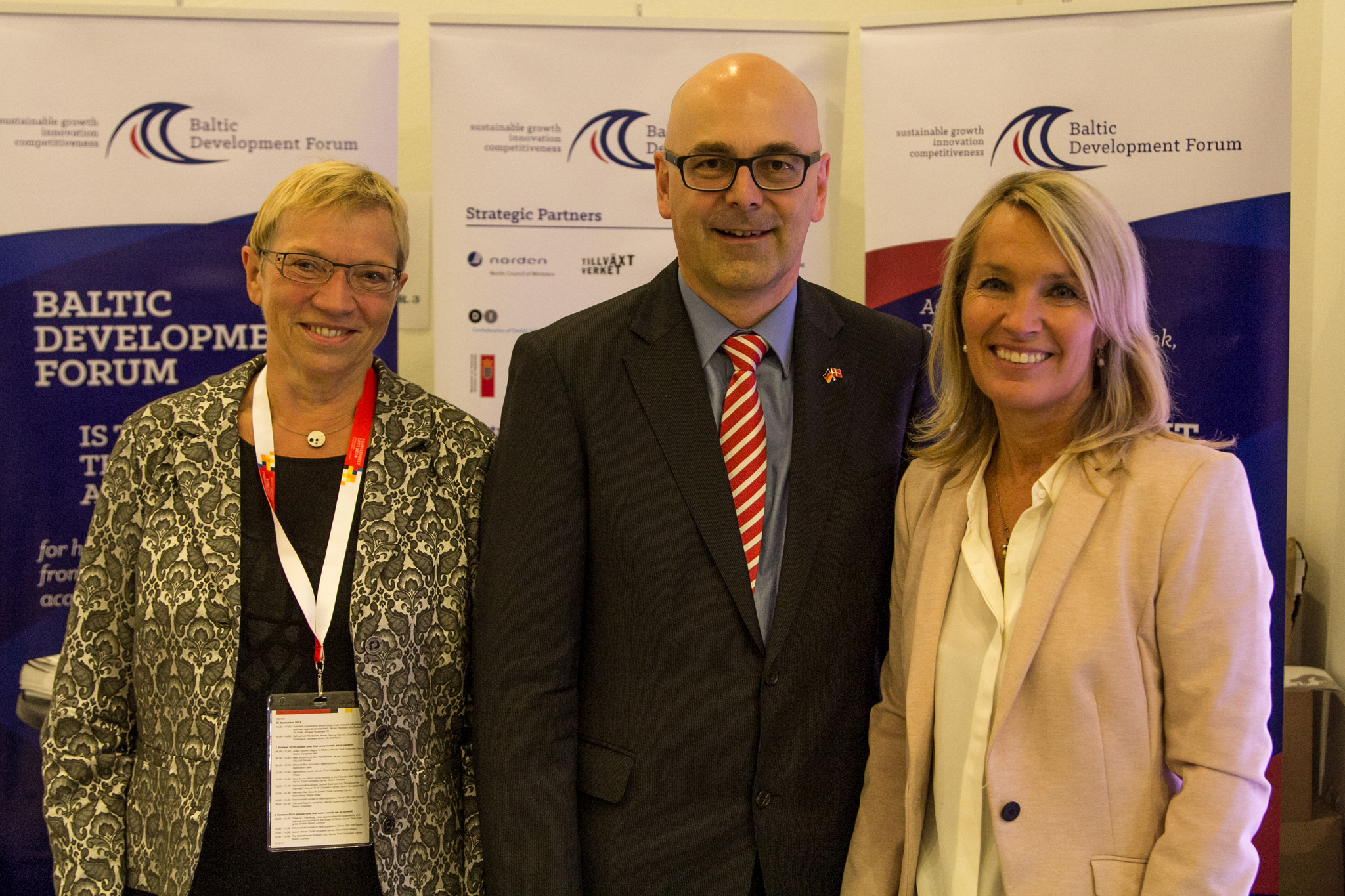 During the three days a large number of events were held across Copenhagen, ranging from political conferences to family activities on the Town Hall Square. More information on the programme of the Fehmarnbelt Days is available on www.fehmarnbeltdays.com
Photos and video from the Fehmarnbelt Days 2014
Videos from the Fehmarnbelt Days are available here.
Watch an BDF Chairman Lene Espersen share her perspectives of how a Fehmarnbelt fixed link could open up for more opportunities in the Baltic Sea Region.
Photos from the Fehmarnbelt Days 2014 can be viewed on Flickr.
The Fehmarnbelt Days 2014 also attracted a strong interest from the media. Read some of the press coverage here
High-level support for cross-border collaboration
Politicians from Germany, Denmark and Sweden taking part in the Fehmarnbelt Days voiced support for improved connections and increased collaboration in the Fehmarnbelt Region. Statements from the official opening:
Torsten Albig, Minister President of Schleswig-Holstein:
"The Fehmarnbelt Fixed Link is one of the largest and most important traffic infrastructure projects in Europe. It will directly connect the metropolitan areas of Copenhagen and Hamburg and will move Scandinavia closer to continental Europe. I am convinced that this new connection can create a strong economic growth corridor, which will provide better opportunities especially for tourism, labour market, trade and business. The fixed link allows the South-Eastern Baltic Sea area to grow closer together as a region where borders almost have no importance."

Magnus Heunicke, Danish Minister of Transport:
"I'm really happy about the strong support and interest for the Fehmarnbelt Fixed Link, which the entire region is demonstrating in these days. The Fehmarnbelt Tunnel will be a huge success for Denmark as well as for Germany, Sweden and for the rest of Europe. And I am proud that in one of the next parliamentary sessions in the Danish Parliament, we will be able to put forward the Construction Act for the project."
Carsten Hansen, Danish Minister of Housing, Urban and Rural Affairs
"During the next days, we are taking important steps towards establishing a strong Fehmarnbelt corridor from Northern Germany and Eastern Denmark towards Southern Sweden. I believe that a fixed link between Denmark and Germany together with a solid cooperation among the countries will generate a strong positive impact on growth and employment in the Fehmarnbelt corridor. We can become an important economic hub, if we do things the right way."
Pia Kinhult, Chairwoman of the Region of Scania:
"In Skåne we have seen how the Øresund bridge has had substantial positive effects on employment and growth, and has led to the development of a new integrated region between Sweden and Denmark. With a fixed connection between Denmark and Germany there is an exciting opportunity to replicate this on a larger regional scale, as Sweden connects to Europe through this new corridor."