Future cooperation between the Danube macro-region and BDF was today discussed between the Secretary General of Council of Danube Cities  and Regions, CODCR, Eric Bartha, the Romanian Ambassador to Denmark, Matei Viorel Ardeleanu and BDF Director Hans Brask at a meeting in Copenhagen.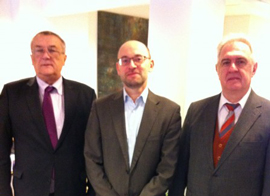 The 14 countries along the Danube River – cooperating under the umbrella of the EU Strategy for the Danube River (EUSDR) – are looking for partnerships to foster macro-regional development and create a sustainable region. BDF has good experience in working with stakeholders in a macro-region in the Baltic Sea area and can be of help in establishing an atmosphere of cooperation on all levels between EU, business, regional and local institutions, and academia.
The EUSDR had it's 1st Annual Danube Forum in Regensburg 27-28 November with the attendance of the Chancellor for the Federal Republic of Germany, Angela Merkel and Johannes Hahn, EU Commissioner for Regional Policy.
More information can be found here.