The session "Business as usual or need for a new thinking" explored the business attraction and business-making models in the Baltic Sea Region. Four messages were stressed by the panelists:
Firstly, we need to consider new thinking and more focused approach. Our focus should be on entrepreneurship and start-ups. There is a need for robust start-ups systems and more long-standing partnerships between start-ups and corporates. The corporates have more tools and can operate as incubators and facilitators of ideas. The start-ups have entrepreneurial spirit and innovative approach. Business-to-business model should be enhanced and modernized.
Secondly, there is a clear need for more investments in human resources and retention of talents. Public policies should be further revised to foster talents, allocate more funds for research and education. However, the solution should not be only a political, but also societal and economic.
Thirdly, we should be ready to adjust to rapidly changing settings. We should better understand that the world around us is continuously changing and we are a part of this transformation. Nothing should be taken for granted, and risk awareness is essential.
Fourthly, as small economies, the countries in the Baltic Sea Region need to cluster together and become better at marketing and promoting themselves.
Juncker investment plan – a boost for the Baltic Sea Region?
Earlier in the day, Jan Vapaavuori, Vice-President at European Investment Bank, presented Juncker's investment plan as a response to the lack of liquidity and investments in Europe. The European Fund for Strategic Investments (EFSI) is an opportunity to invest public money and to attract private financing.
In the following panel discussion, the panelists jointly agreed that the EFSI is indeed a useful tool, but needs to be further developed and improved. Europe and the Baltic Sea Region need more investments, so the timing for the introduction of EFSI is good. It was said that funds are available, but capacity to invest is lacking. EFSI will enable increased financing of projects with higher risk levels, provided that the projects are viable and capable of mobilizing private financing. Harro Pitkänen, Head of Business Development and Control at Nordic Investment Bank, supported EIB in underlining that the investments need to be bankable and made by a willing and convincing borrower with the capacity to pay back.
The participants also expressed some concerns about the EU-initiative. One of those concerns were regarding the synchronization of the funding period, which is only 3 years, with the commercial period of investments of about 15-20 years. In addition, there are also some worries about a regulatory risk that should be taken into account. Carsten Stendevad, CEO, ATP Group, raised one of the crucial questions: how to attract the private sector? The private sector is eagerly searching for long-standing projects and long-term partnerships, but it is difficult to secure the success of these projects if regulatory risks take over. The regulatory risk, ironically called "poison for private investments", should be lessened and mitigated by securing more stable and predictable regulatory schemes. Carsten Stendevad's concern was met by a comment from Andris Piebalgs, former European Commissioner, who agreed that regulations should give confidence to the private sector. It is important to invest public money into a strategic future.
The speakers also brought the regional perspective into the discussion. It was clearly expressed that the Baltic Sea Region countries need to work together in energy, transport, innovation and research as there is a need for – among other things – better infrastructure and improved power generation facilities.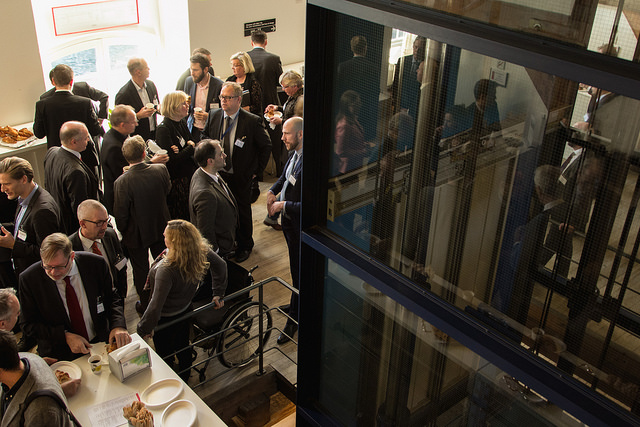 Plenty of discussions at the 17th Baltic Development Forum Summit.