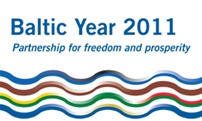 The Nordic and Baltic countries have, within the framework of the NB cooperation, undertaken to celebrate the 20th anniversary of restoration of diplomatic relations and the regained independence of the Baltic countries.
Under the year 2011 different manifestations will be arranged in the capitals of the Nordic and Baltic countries.
Celebrations in Sweden
The Swedish events go by the name Baltic Year 2011. The aim is to strengthen the bond between Sweden and the Baltic countries and bring light to a Nordic-Baltic future of mutual interest.
The first event took place on the 11th of March when Baltic Development Forum and the Stockholm Chamber of Commerce arranged a conference on growth and competitiveness in the Baltic Sea region. The Swedish EU minister Birgitta Ohlsson held an opening speech followed by two panel debates, one on the role of trade and industry within the EU Strategy for the Baltic Sea Region and Europe 2020 and another on the digital market in the Baltic Sea Region.
The main event will be the "Monday meeting" on the 15th of August hosted by the Swedish Prime Minister with guests of honour followed by a ceremony in the parliament. On the 27th of August a Jubilee Concert in Berwald Concert Hall with Baltic musicians and singers will open the Baltic Sea Festival.
In addition a reception for the Baltic communities in Stockholm hosted by the county governor Per Unckel on the 3rd of September and later in the fall an economic seminar arranged by the Stockholm School of Economics.