Economic growth and competitiveness is the order of the day as an answer to the present economic crisis. Europe is, however, divided between the North and South on how to create growth. One question is whether the Baltic Sea Region countries are ready to act as a model and to present projects of common interest when new funds and opportunities are being released as part of a wider European compromise?
Hans Brask, director of Baltic Development Forum, looks forward to hear the discussions of the questions on the upcoming BDF Forum and Annual Forum on the EU Strategy for the Baltic Sea Region.
Is it possible to create growth without increasing the public debt and worsening the distrust of the financial markets? Latvia's Prime Minister Dombrovskis framed this challenge very simply when he during the very successful Lennart Meri conference which took place in Tallinn, Estonia recently asked: "Who will finance growth initiatives that will deepen the debt burden of the economy? Will the financial markets buy the bonds? No. Will the taxpayer in Northern Europe pay the bill? No", he said.
The Lennart Meri conference left a clear impression: There is very little political flexibility in Northern Europe towards the situation in Greece. Especially the Baltic States believe that Greece and other debt ridden countries have to bite the same bullet as the Baltic States had to when they were in serious economic trouble in 2009: reduce public spending and introduce structural reforms that will improve the competitiveness and trust in the economy! Prime Minister Dombrovskis has even written a book on the Latvian experience together with the economist Anders Åslund.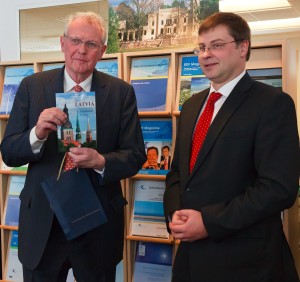 Still some proposals are emerging on how to stimulate the economy in the short term on a European level. First of all, unspent EU structural funds should be used quickly for creating jobs. Secondly, the European Investment Bank should be given new funds to increase their loans to projects.