Baltic Development Forum wishes all our members, partners and friends of our network a wonderful Christmas season and a prosperous 2010. 2009 has been a difficult year for the Baltic Sea Region in terms of economic growth but politically there are many new hopes for creating a more integrated, prosperous and modern region.
The 2009 Baltic Development Forum Summit in Stockholm gave a very good picture of the present challenges and the future opportunities. As the Summit evaluation witnesses, the Summit itself was a great success according to the participants, who also found that cooperation with the Swedish EU Presidency provided an excellent framework for discussing the future of the region in a European context.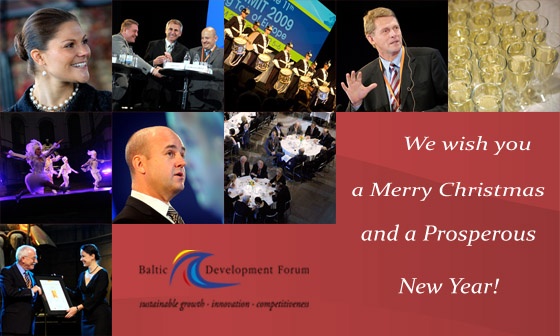 In particular, the pioneering EU Strategy for the Baltic Sea Region gave reason to stay optimistic. The Strategy seems to follow closely, the EU2020 agenda that the new Barroso Commission is proposing. It includes a vision for a green economy based on innovation, talents, research and development.
We need to make sure that the EU strategy is used wisely – and why not turn it into a regional version of the EU2020 plan? We should encourage all the regional stakeholders to stay engaged, interested and involved. The opportunities for the private sector also need to be presented and specified more clearly. Only then, "Brussels" will get all the competent and matching partners in way ahead. The new Lisbon Treaty gives additional possibilities for regions to flourish in respect of the common rules. BDF will continue facilitating useful crossroads between European and regional integration – between the Commission and regional stakeholders.
Finally, as a result of the EU Strategy, the fight against the pollution of the Baltic Sea will become more active. BDF will stay committed to solving this problem and argue that we need to turn the problem into an economic chance, not least for the business sector. The vision must be to create a Green Valley of Europe which symbolizes excellence in green research, innovation, talents, energy efficiency, renewable energies and world competencies in water resource management. In times of crisis, we must develop new markets and new competitive edges. Why not start the green economy before the rest of Europe?
The two new BDF reports – State of the Region Report and Energy Perspectives for the Baltic Sea Region – contributed to setting a clearer common agenda. The two reports seen together provide useful information into questions that are on every decision maker's mind – especially as a follow up to the COP 15 Climate Summit in Copenhagen: how do we combine economic growth, business opportunities, competitiveness with climate change and the need for sustainable energy supply? Russia is integrated in the analysis in both reports.
Let us discuss these issues further at the next BDF Summit 1-2 June 2010 in Vilnius!
Baltic Development Forum wishes all our members, partners and friends of our network a wonderful Christmas season and a prosperous 2010.
Hans Brask, Director